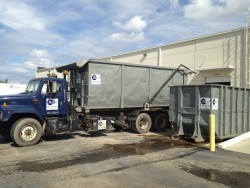 Has your basement become a throwaway zone for old cast-offs and unwanted belongings? Are you looking to clear out the contents of a family home or foreclosed property? If so, you have a major junk-hauling situation on your hands. But don't despair. At ADM Rolloff, LLC, we specialize in quick, low-cost junk removal services for large real estate cleanouts and other big junk haul jobs in the Atlanta area. That way, you can save on the cost of your household or commercial garbage hauling and skip all those time-consuming trips to the dump.
Contact us today for the junk haul help you need: It only takes a minute to call or reach us by e-mail!
Local Junk Removal Service
As your local junk remover, ADM Rolloff, LLC, provides a number of garbage hauling options for home- and business owners alike. For starters, our multitude of dumpster rentals includes 100 junk haul containers ranging in size from 10 to 40 cubic yards. We can gladly drop off as many junk hauling dumpsters as you would like at your location and pick them up at the end of the week during our regular business hours. You can rest assured you'll get the precise level of junk removal service you need at some of the best prices in town.
Just call or e-mail ADM Rolloff, LLC, to get a better idea of how our junk hauling receptacles and alternatives can be of benefit to you. Whether you prefer to take a week or a day, your dumpsters rental can help you manage your property cleanup. Whatever type of junk removal service you decide on, you can count on us for:
Easy, flexible scheduling
Free, no-obligation price quotes
On-time drop-offs and pickups
Multiple sizes of available dumpsters
20+ years of junk hauling experience
Full licensing, bonding, and insurance
Service throughout the Atlanta area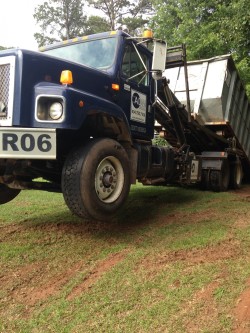 In short, ADM Rolloff, LLC, is just what you need to put an end to your large-scale trash collection needs. With the exception of tires, wet paint, and hazardous materials, our team of junk hauling professionals will take away pretty much everything, including concrete, dirt, and shingles*. That can come in especially handy for your post-construction and demolition cleanup projects.
By recycling shingles and separating out any concrete or dirt, we can help you dispose of these difficult materials in the most responsible and efficient manner possible. Because after all, hauling trash and junk is our livelihood, and we strive to earn your approval with our speedy turnaround time, unbeatable prices, and courteous service.
Contact Us Now
Call us for your next big junk haul project: To secure your free cost estimate and junk removal services from ADM Rolloff, LLC, reach us today over the phone or online. In the Atlanta area, we can make swift work of your garbage hauling project. Don't hesitate to call us and take advantage of our excellent rates on hauling trash!
*Concrete and dirt must be in separate dumpster; please inform us beforehand if you plan to place dirt or concrete in your dumpster.

At this time, ADM Rolloff, LLC, cannot accept tires, wet paint, asbestos, or other hazardous materials. We regret any inconvenience this may cause.