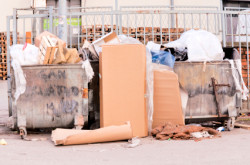 The final results of construction work can bring a beaming smile to your face. But the leftover mess at the work site? Not so much. If you're wondering what to do about all those remnants of building materials detracting from the enjoyment of your project, go with the team that has 20+ years of experience in construction cleaning/dumpster services.
Here at ADM Rolloff, LLC, we can take a load off your mind as well as your work site with our roomy dumpsters for post-construction cleaning. Rent some today at our great low rates, and have your construction cleaning finished by the end of the week! To set up your junk removal services, reach us right away by phone or e-mail.
More often than not, the disarray remaining on the job site can contain jagged pieces and scraps with sharp edges. So before you end up damaging your car's upholstery or putting a scratch in your paint, you might want to avoid using your personal vehicle for cleanup service and leave the risky disposal portion of construction cleaning to ADM Rolloff, LLC, instead. We accept a wide array of construction waste as part of our junk removal cleanup service, including:
Drywall
Wood scraps
Insulation
Stone and brick
Concrete
Dirt
Shingles
Packing materials
And more!
All we ask is that you go over the details of your construction cleaning with us in advance, so we can plan ahead for items such as concrete and dirt that need to be kept separate from other collected debris. By giving your construction cleanup the individual attention it requires, ADM Rolloff, LLC, can put together a cost-effective dumpster rental plan designed especially for you and your post-construction cleaning needs. Get started now: Call us for a free estimate!
Fast Turnaround on Construction Cleanup Dumpsters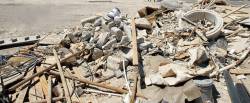 Chances are, you've already waited quite a while from the initial stages of your property renovation to the final reveal. So don't allow another day to pass with scattered piles of leftover building materials spoiling the finished product. For some of the fastest turnarounds and lowest prices on cleanup service in Atlanta and beyond, get on the phone right now and call ADM Rolloff, LLC. Our construction cleanup pros are licensed, bonded, and insured, and we won't waste any more time getting you the construction cleaning equipment you deserve. Reach us today by phone or e-mail!
Not sure what capacity dumpster you need? ADM Rolloff, LLC, can help with that as well! Just take a minute to talk with one of our construction cleaning specialists. We'll size up the bulk of your cleanup service and get the ball rolling on your home or business dumpster rental. With 100 receptacles in a range of sizes at our disposal, we can put a rush on your post-construction cleaning and give you another reason to smile.
At this time, ADM Rolloff, LLC, is not accepting tires, wet paint, asbestos, or other hazardous materials. We apologize for any inconvenience this may cause.