Are you overwhelmed at the prospect of a huge estate cleanout? Have you had it with the clutter from your attic to your basement and everywhere in between? Do you dread driving miles to drop off your loads of junk? For all of these property cleaning problems and others, the answer is actually easier than you realize: Just pick up the phone and call ADM Rolloff, LLC, for trash removal and dumpster service that won't break the bank.
We're a locally operated and family-owned junk hauling company offering efficient, economical dumpster rental drop-offs to residents and contractors throughout the Atlanta area and towns all around. When you have heaps of trash and rubbish slated for garbage removal, we'll speed the right-sized receptacles directly to your door, saving you the headache and hassle of going all the way to the dump.
It's quick, it's affordable, and it can be arranged in a matter of minutes. Contact us today for your trash dumpster rental!
Dependable Dumpster Rental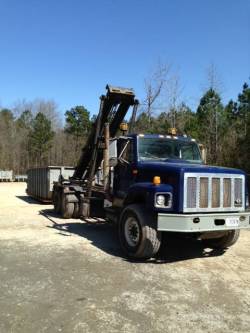 At ADM Rolloff, LLC, we're not limited to an inventory of a few dozen portable waste containers to meet your needs for junk hauling. Because we have 100 roll-off dumpsters in sizes including 10, 15, 20, 30, and 40 cubic yards, we're able to keep our prices low and minimize your wait times for garbage removal service. When you've carved out a window in your busy week to get your property cleaning done, we won't mess it up by arriving late or lacking trash dumpsters for rent.
We're well equipped to accommodate your junk haul jobs of every kind and capacity, including whole-house real estate cleanouts, post-remodeling construction cleaning, and any other home or commercial cleanup service you happen to have in mind.
Efficient Property Cleaning
Let's be honest. It's hard to make the business of trash removal and dumpster rental sound exciting. But just think about how fantastic you'll feel once the clean out work is over and your closets are neatly organized or your real estate listing is ready to show. The way we see it, you have two choices when it comes to hauling trash: take the slow, burdensome route to garbage removal that's tough on your schedule as well as your vehicle. Or, rent dumpster equipment from ADM Rolloff, LLC, fill it with all of your litter and castoffs, and have it picked up and taken away when you're done. As we're sure you'll agree, property cleaning doesn't get much easier than that! 
Experienced Trash Haulers
A lot has changed in the garbage hauling business since we opened our doors in 1995. But that hasn't stopped us from staying current with the latest rules and regulations affecting your residential or commercial junk removal services. While you can't necessarily rely on your regular garbage removal company for bulk jobs such as appliance disposal or furniture disposal, you can always count on ADM Rolloff, LLC, to be small enough to care and big enough to handle even your tallest junk haul orders.
When you hire us for your property cleanouts and other dumpster rental projects, not only are you supporting an Atlanta-based trash removal company, but you're also working with a knowledgeable junk remover backed by 20+ years in the field. So why put it off any longer? The sooner you reach us for your dumpster service, the quicker we can help you move out all that junk.
Take us up on our offer of a free, upfront estimate: Call or e-mail our fast, affordable trash haulers today!