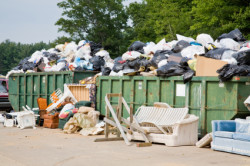 It's easy to lose track of trash removal as older items break and you acquire new possessions. Before you know it, your limited storage areas can become chock full of obsolete objects doing nothing more than gathering dust. When you've had enough of the clutter taking up your valuable storage spaces, put in a call to the trash haulers at ADM Rolloff, LLC.
While garbage and rubbish removal may seem like a relatively painless task, it can actually involve countless hours of loading up your vehicle with all kinds of odds and ends and carting them away to the nearest dump or transfer station. On the other hand, with the appropriately sized dumpster rentals dropped off outside your door, you could accomplish your entire trash removal plan without having to go any further than your own driveway or parking lot. Call us today for details!
Get Your Dumpster From Our Trash Haulers
No matter how far behind you are in your trash removal upkeep, ADM Rolloff, LLC, can get you back on track in next to no time. Our weekly dumpster rental receptacles are an extremely swift and affordable answer to appliance disposal, furniture disposal, and any other type of garbage removal service you happen to require.
Available in sizes from 10 to 40 yards, these convenient roll-off dumpsters can be placed in close proximity to your Atlanta-area property, allowing you ample room wherever you have trash removal cleanout needs, including:
Home
Commercial settings
Real estate listings
Foreclosed properties
Construction sites
Demolition zones
Apartment houses
Private estates
And more!
Removing Rubbish Large and Small
Heavy, cumbersome items such as old refrigerators or sofas can be impossible to fit in your personal vehicle and transport. But with the help of our professional garbage removal service, you can leave the appliance disposal and furniture disposal to us. Our trash haulers accept just about everything from outdated computers and other electronics to concrete and dirt, as long as any concrete or dirt is kept separate and arranged for in advance. We can even take and recycle shingles when you call us to remove trash from your residential or commercial property.
Why go to the time and trouble of lugging your litter to the car, loading one item at a time, and logging mile after mile only to turn around and go through the entire garbage removal process all over again? Thanks to the trash haulers at ADM Rolloff, LLC, you can toss the whole kit and caboodle into your rented dumpster and be done with it once and for all.
So trust in the team that delivers 20+ years of experience, timely trash removal help, and some of the lowest prices in and around the Atlanta metro area. Call for your roll-off dumpsters today, and get a free estimate on your garbage removal service directly over the phone.
At this time, ADM Rolloff, LLC, is not accepting tires, wet paint, asbestos, or other hazardous materials. We apologize for any inconvenience this may cause.